Style
5 Lessons Served In Leather Jacket Styling
Just buy the damn jacket
03/20
Share this:
Filed under Shopping Guide
Written by Danielle Williams
I've always been partial to the leather jacket but I feel I've only seen half the big picture here when it comes to styling it.
It's a jacket, so kind of an afterthought for me with limited possibilities – I mean I only have one pair of shoulders to cover right?  
Wrong.
I am taking the following as my new styling guide to expanding my once narrow-minded views of the humble leather jacket because we're being served some serious lessons in jacket styling just in time for Autumn and I am listening. 
Lesson One: Go tan or go home
Take if from Josefine H.J brown is in. 
This was a hard pill to swallow at first because I'm your default to black kind of gal – however – after seeing the magic of pairing a dark tan with a below the knee length and I was sold. 
It's instant chic with minimal effort. 
Pair with: black open toe heels with a shoestring strap, slip mini dress underneath 
Lesson Two: Try a heavy metal 
If you're not convinced tan is your quite your thing, opt for the same knee-length style but try it in black with the addition of some heavy metals – think studs like this number worn by Xenia Adonts.
Metal adornments add a touch a fierceness and feel best suited to the weekend. 
Pair with: boyfriend denim jeans, a singlet top and sneakers. 
Lesson Three: Same but different 
If style veteran Amanda Shadfoth is anyone to go by, we should also be trying our leather in grey.
Keep it long, cinch the waist with a soft-tie belt and call it a day.
Grey is a softer, more feminine approach which feels appropriate for a midday soirée with the girls or even an option for that weekend wedding to cover up your silk maxi. 
Pair with: a silk maxi dress and a slingback heel. 
Lesson Four: Layer it
The buck doesn't need to stop with the addition of a single jacket layer. 
Take your style cues from Monikh Dale and layer a thick woollen cardi under your jacket but try to keep the lengths of both the same to keep the look feeling polished and deliberate. 
A strong weekend wear vibe here that feels best suited to a day of comfort. 
Pair with: slim-fit denim, a loose tee and a button-up cardi 
Lesson Five: Keep it simple
Now, I'm not saying in order to wear leather you have to reinvent the wheel with it. It can simply be what it was meant to be, a leather jacket. Simple in style, waist length and in black leather.
No one can argue with the ease of that, especially not if we can pull it off like Matilda Djerf. 
Pair with: black slim-fit trousers, slides, a great pair of statement earrings and a fitted long sleeve top 
NA-KD
Power Shoulder Pu Jacket
$117.95
Each x other
Belted faux leather trench coat
$515.00
All Saints
ESTELLA BIKER LEATHER JACKET
$699.00
ASOS
Faux Leather jacket
$96.00
Ena Pelly
Classic Biker
$599.00
Dazie
Trucker Jacket
$139.99
Read More From En Route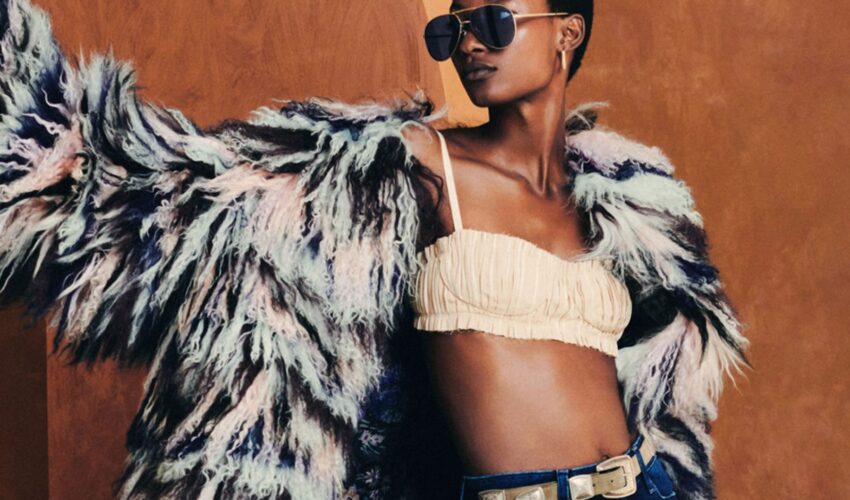 Beauty , Self , Style
06/23
come En-Route with us
Sign-up for our newsletter.
By clicking "submit", you agree to receive emails from En-Route and accept our privacy and cookie policy.