People
Celebrating 9 Inspirational Founders On International Women's Day
Because when women want something, we go out and make it happen.
03/23
Share this:
Filed under People
Written by Kate-Marie Thorpe
International Women's Day is a celebration of femme that occurs each year on March 8th to recognise the social, economic, cultural, and political achievements of women around the world.
It is a time to reflect on the progress made towards gender equality, but also to acknowledge the work that still needs to be done. 
Female founders have been breaking records and challenging conventional business models for years, breaking down barriers and inspiring other women to pursue their entrepreneurial dreams. From tech startups to fashion labels, these women have shown that anything is possible with hard work, determination, and a great idea. 
Today, and every day, we celebrate female-identifying pioneers in our society; not only to recognise their individual achievements, but also the collective impact of women on the business world. It is a reminder of the incredible potential that exists when women are given the support and resources they need to succeed. Females to the front!
Sheena Yaitanes has had a long and varied career; the now-chemist studied biology and business, and even tried her hand at acting and fine art before launching Kosas from her kitchen table in 2015. It was this artistic background and colour expertise that led to her first product line: eight shades of lipstick made to match different skin tones. 
When it comes to drawing inspiration for her latest creation, Yaitanes looks not only on the surface, but inwards, which is something we as women can take forward into the everyday. "Kosas was named after the yoga philosophy of koshas, which teaches that there are five interconnected layers in every human body — physical, energetic, mental, intellectual and soul — and we as a brand live by the credo to cultivate 'beauty on every level."
KOSAS
Chemistry AHA Serum Deodorant
$27.00
KOSAS
Revealer Concealer
$50.00
KOSAS
Wet Lip Oil Plumping Treatment Gloss
$37.00
Kirsten Carriol, Lanolips
The iconic tube of all-over goodness started with humble beginnings for Kirsten Carriol.  Spending her childhood holidays on her grandfather's sheep farm, she quickly learned that that sheep's wool contained lanolin, had multiple benefits, and was the key to the soft hands that her grandfather had after a day of shearing sheep. Unable to find a product to match the softness and hydration she found in the farm shed, Lanolips was born. 
Now as an established business, Carriol continues to place great value in maintaining connections with those she loves. "As a female brand founder, one of the biggest challenges I've faced and overcome is balancing the demands of running a business with the priorities of my personal life. It can be difficult to find time for both, but I've learned the importance of prioritising and delegating tasks, setting clear boundaries, and seeking support from friends and family."
LANOLIPS
Fruity Jellybalm Watermelon
$14.95
LANOLIPS
The Original 101 Ointment Multipurpose Superbalm
$18.95
LANOLIPS
Rose + Lanolin Hand Cream Intense
$16.95
Brooke Pitt (nee Hogan) and Hannah McKimm, Our Pilates
They say that 'sisters are doing it for themselves', but sometimes things just work better together. That proved to be the case for Brooke Pitt and Hannah McKimm, who recently founded Our Pilates—a physio led, online Pilates subscription program designed to enrich your life, make you feel good and reap the benefits that come from regular practice. 
After Brooke began seeing Hannah for regular appointments following a minor injury, their shared love of movement, wellness and community interwove itself through their timely friendship. Benefiting greatly from the physical therapy and gradual approach that Hannah took, their mutual appreciation developed into a digital business. This bond and love for lifting others up has resulted in almost-instant success for the platform. Hannah says, "Creating and launching Our Pilates is a dream come true for me. To be able to provide our community with a library of classes that will leave you feeling strong, grounded and connected to your body brings me more joy than I can describe."
Chiara Cascella, Espressoh
When it comes to fads, trends and triumphs, beauty industry veteran Chiara Cascella has seen it all. Founded in 2018, she founded Espressoh with the ultimate goal to bring high quality, inclusive, transparent and non-toxic beauty essentials to market and to the makeup bags of Italy and beyond.  

Paving the way for her brand and doing things 'her way' in an already saturated space, however, took courage and ingenuity. "It felt that it was time for a simplified version of makeup that resonated with the understated yet elegant approach to beauty… [Espressoh] was born out of the philosophy of grandmas inviting someone for coffee and not accepting no as an answer. It is not just an invitation for the drink itself but it means they are opening their house to you, business happens around espresso sips, and much more."
Espressoh
Dewy Latte
$46.00
Espressoh
Glassy Blush By The Glass
$40.00
Espressoh
Ohmyglow Foundation
$51.00
Not just founded by any woman, Modibodi was created by a mum on a mission. Kristy realised the main solution available to manage light incontinence was disposable hygiene products, which practically, aesthetically and above all, sustainably, did not sit quite right with her. Fast forward over a decade, and Modibodi is now one of Australia's most recognisable—and reliable—hygiene and apparel wear providers.
To celebrate the incredible feats that women can achieve, the Modibodi team have created the annual 'Modibodi Game Changer Grant', adapted to support a range of initiatives, organisations and individuals that innovate and break the status quo. A driving force behind the grant is another stellar female, Modibodi Head of Sustainability and Public Affairs, Sarah Forde.
"In our tenth year as a brand, we wanted to build on the strong foundations we have laid in the period equity space through our Give a Pair program, which has donated over $2,500,000 worth of underwear. We're offering our first Game Changer Grant to Irise International, and its work supporting youth to campaign for menstrual equality with dignity and without shame for students," says Sarah.
Modibodi
Recycled Seamfree Full Brief
$34.00
Modibodi
Classic Full Brief
$27.50
Modibodi
Vegan Bikini
$27.00
Nicole Liu, Kin Fertility 
Not being taken seriously by healthcare professionals and having to advocate for your ongoing symptoms is exhausting, and sadly, not at all uncommon for women. So Nicole Liu decided to go one step further. Liu founded Kin Fertility because she had observed a need for women to be able to talk openly and take control of their reproductive health and fertility. This stemmed from her own incorrect diagnosis of PCOS at age 24.  Whether it's a pill subscription, a prenatal vitamin or postnatal recovery, Kin enables women to ffeel empowered, healthy and looked after.
Once again taking strides forward for women's health, Nicole and the Kin Fertility are facilitating the opportunity to help transform a girl's life this March for International Women's Day. For any Kin purchase made, $7 will be donated to The Cova Project in an effort to reduce period poverty across Africa. Nicole say, "A menstrual cup may seem small, but it gives a woman an education and a future". The more cups that are distributed, the closer that Kin and The Cova Project become to achieving their mission of an empowered future for all girls and women.
Sophia Hidalgo, Coverluxesilk
Sophia Hidalgo did more during COVID lockdowns in 2020 than most of us. Unable to visit the salon, the Sydney-based entrepreneur identified a gap in the market for luxurious and simple at-home beauty treatments that offer salon quality results, and thus Coverluxesilk was born. 
The demand for that there was a demand for at-home hair, eyelash and skincare products skyrocketed, and so she was inspired to launch the beauty and self care brand to offer simple solutions to beauty consumers.
Much more than just 'Netflix and self-care', Sophia's determination and curiosity, coupled with research and careful planning, allowed her business to soar—and it continues to grow to this day. But the young founder also shared her secret to a thriving business: surrounding yourself with supportive females. "Networking and building relationships with industry professionals, influencers, and customers can help you gain visibility and credibility in the beauty industry. The tremendous growth that Coverluxesilk seen over the past few years…wouldn't have been possible without my team and all of our hard work."
Charlotte Knight, Ciaté London and SKIN PROUD
Why stop at one thriving beauty brand when you can have TWO?! That's exactly the philosophy that Charlotte Knight adopted. Her journey and love for the industry began as an editorial nail technician with undeniable entrepreneurial drive, which ultimately saw her salon and backstage experience lead to developing Ciaté London as a nail brand in the late 2000s. Skin Proud has emerged due to a gap for 'realness' that Knight identified: in a world of IG filters and airbrushed skin, the brand champions being proud of the skin you're in. 
Creating two thriving global brands has not been without its lessons in resilience. "No matter how hard you try to avoid them, mistakes do happen. You've just got to make sure you learn from them," Charlotte says. "A good way to do so is to surround yourself with seasoned mentors who can be your sounding board and go-to as you plan your adventure into the business world."
Ciaté London
Dewy Skin Glass Glow Skin Tint
$52.00
Ciaté London
Dewy Blush
$36.00
Ciaté London
Dewy Stix Luminous Vegan Highlighting Balm - Glow
$38.00
Carina Chaz is flipping the script on the way fragrance is defined and experienced. Founded with generations of beauty expertise behind it. Fragrance was always the Los Angelean's passion from the very beginning. Growing up alongside her mother as a beauty formulator, with a lab as her playground, it felt natural for Carina to create DedCool.

On finding her strength to create the brand, Carina says "My love of scent and a general rejection of the way the Fragrance industry operates lit a fire under [me] to create a modern 21st Century definition of what Fragrance means. It started humbly on Instagram, and then grew to knocking on the doors of local retail shops with the hope of being carried on consignment." Always start humbly—it could lead to your brand being stocked in MECCA!
Read More From En Route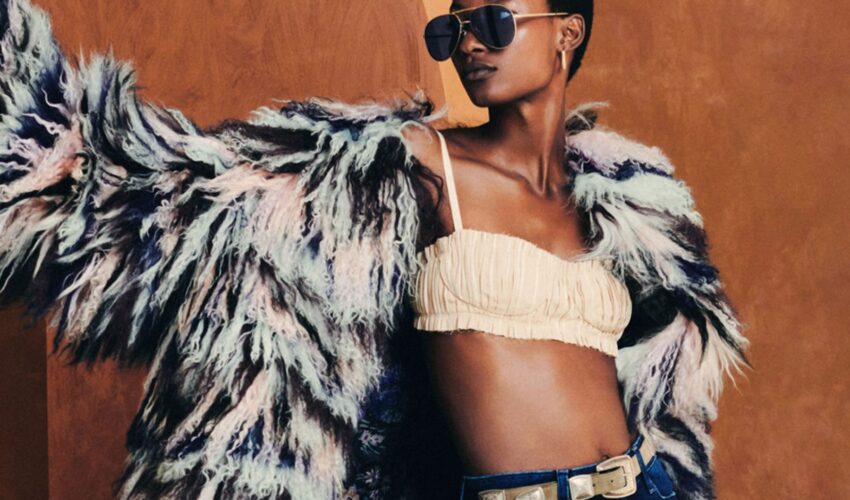 Beauty , Self , Style
06/23
come En-Route with us
Sign-up for our newsletter.
By clicking "submit", you agree to receive emails from En-Route and accept our privacy and cookie policy.