Style
All Dressed Up And Nowhere To Go. Volume 1.1
Life is a runway, even if you #werkitfromhome
03/20
Share this:
Filed under Shopping Guide
Written by Danielle Williams
We are back with today's rendition of #werkitfromhome style Volume 1.1.
We may all still be confined to our own four walls and swapping face meetings to FaceTime, however, don't let that stop you from making your working from home style the most exciting part of your day.
So feast your eyes on these caught in the wild favourites as this is a lesson in real style by real women. 
In case you missed it, visit Volume 1.0 here. 
A common fixture in the wardrobes of the modern Australian women is the beloved Trench Coat. An easy to find, easy to wear staple that is both practical and polished. 
Take it from Belinda Liana and pair yours with your comfiest denim, a dad sneaker and pretend like you've actually got to be somewhere when in fact you've just got to #werkitfromhome.
Lee
Wide Jeans
$79.97
Uniqulo
Sweater
$49.90
Windsor Smtith
Sneaker
$159.99
ASOS
Trench Coat
$100.00
This is one of the more comfy looks I've encountered in my daily hunt for rare and untamed #werkitfromhome looks.
This soft and fuzzy little creature is a two-piece look I can get around c/o Eloise Jaksic. 
Nude Lucy
Crop Sweater
$59.95
Nude Lucy
Cropper Tee
$29.95
Nude Lucy
Trackpants
$59.95
New Balance
247 Sneakers
$69.99
Today I caught a rare and exciting glimpse at this Australian native staple, the elusive Ugg Boot.
It's not often we're treated to such an up-close and intimate moment with the Ugg Boot as they much prefer the deep confines of one's wardrobe, however, the times are changing and with it so has the secretive nature of the Ugg Boot who is now comfortable seeing the light of day courtesy of Steph Claire Smith's #werkitfromhome style. 
Spell & The Gypsy
Knit Jumper
$179.00
Henne
Lara Skirt
$149.00
Ugg Boots
Button Boot
$139.00
Soda Shades
Glasses
$71.10
The Owner and Founder of MARAIS Enterprises, Hiromi Yu is showing us how it's done with her #werkitfromhome style. 
Not afraid to be bold, this style chameleon is yet to add her winter coat and instead has chosen to opt for a strapless trench coat and knee-high boot look courtesy of MARAIS Boutique.
HERON PRESTON
Trench Coat Dress
Text +61(0)423 277 392
CELINE
Claude Knee-High Boot
Text +61(0)423 277 392
Linda Farrow
Aviator Sunglasses
Text +61(0)423 277 392
The sun-worshipping and alluring #werkitfromhome style of Dina Broadhurst reminds me of the Euro-holiday none of us are having in 2020.
Taken from inside her natural habitat; the Casa in the sky, this is home office style best worn with bare feet and a cold glass of Pinot Grigio.  
SWF
Nougat Dress
$349.00
Cellar Masters
Pinot Grigio
$12.08
The mirror selfies and #werkitfromhome style from this creative in the wild are as minimalistic and pure as you would expect from Jessica at The Eve. 
Another no-fail uniform guide I approve of. 
Rowie The Label
Blouse
$85.00
Holly Ryan
Hoop Earrings
$220.00
Levi
Skinny Jeans
$129.95
Now, I've had the pleasure of meeting Megan Hess and there is not a doubt in my mind that this is the actual #werkitfromhome look Megan is sporting.
It's every bit as majestic and feminine as you would expect from such a regal creature. 
poca & poca
Look 25
P.O.A
LOEFFLER RANDALL
Pump
$545.26
Where do I begin with you Madison Lloyd?
I'll start by saying this social butterfly is commonly found frequenting the Eastern Suburbs as her habitat of choice and this seasonal look is uncommon for the slip dress-wearing Queen of The East.
I calculate this combination of half lounge/half activewear + the anxiety pocket snack = comfort levels 100. 
ASOS
Long Cardigan
$84.00
Lululemon
Tights
$119.00
PrettyLittleThing
Black Fluffy Slides
$30.00
Lindt
Dark Chocolate
$3.50
This beauty also shares the Eastern Suburbs as her native habitat and sports a classic animal print/denim combo that perfectly enhances her blonde mane. 
It's an effortless yet undone combination I recommend considering for future #werkitfromhome options c/o Emma Smithson. 
Bassike
Classic Crop Jean
$360.00
GANNI
Leopard print shirt
$244.00
Sarah & Sebastian
Coil Ring
$295.00
Read More From En Route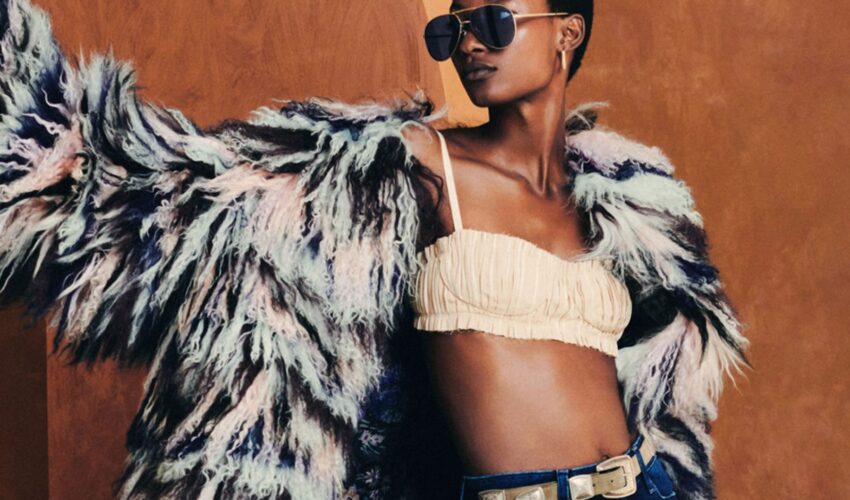 Beauty , Self , Style
06/23
come En-Route with us
Sign-up for our newsletter.
By clicking "submit", you agree to receive emails from En-Route and accept our privacy and cookie policy.