Beauty
Step Inside The World of Fenty Beauty
An immersive introduction to Rihanna's expanding empire
10/22
Share this:
Filed under Beauty
Written by Kate-Marie Thorpe
A few weeks ago, I had a once-in-a-lifetime opportunity to acquaint myself with Rihanna's beauty and skincare brands: Fenty Beauty & Fenty Skin. It was a morning so exclusive, we weren't even given an exact location—only the name of an inner-city laneway—to meet and follow the signs. 
With a handful of fellow beauty writers and content creators beside me, we stepped into a playground of textures, colours, shimmers and scents in a converted warehouse extravaganza to rival any TikTok Hype House. 
Upon arrival, we were greeted by the team who gave us Big Softies to assist with capturing the experience, as well as a map of the interactive areas, and a blank face map to record our matched shades and coveted items along the way. Setting the 'no-detail-spared' scene for the day was an enormous pink, fluffy wall (think 'Get Him to the Greek', but chicer and less baked!).
Our first experience has us stepping into the #FindMyFentyShade room, where we discovered our perfect primer base. Being a normal to dry skin type, I opted for the Pro Filt'r Hydrating Primer, which has a beautifully soft, silken finish without being sticky, or drying out the skin. 
Then it was onto a 'Choose Your Own Adventure' situation where one door lead to a full-coverage face, and the other was a lightweight finish on the face. I opted for the latter and fell in love with the new Eaze Drops Blurring Skin Tint in Shade #3. It's the Goldilocks of skin coverage: not too heavy, not too glowy, not too sheer—just right in every way. 
Contouring was the final stage of our complexion journey, where I was reunited with my old friend, the Match Stix Contour Skinstick. Gosh, if I had my reaction on camera back in the day when I realised they all clicked together into a honeycomb stack… my baby beauty brain was blown away. Needless to say, this faithful formula still slaps, and the new shade, Amber Suede, is the ideal neutral undertone I've been searching for.
Next phase: enter the eyes. A mirrored oasis of all things for the eyelids, this area showcased the best the brand had to offer in terms of colour and creativity. From shimmering eye palettes with daring and delightful combinations to my favourite play of the day, the Flypencil Longwear Pencil Eyeliner, I was like a kid in a candy store. It was here that I also had the pleasure of experiencing a mini-masterclass from the Fenty team, demonstrating a fierce flick in a fiery terracotta tone to brighter up my eyes. 
Moving on to the next room was a feast for the senses. Before encountering a wall of towering Gloss Bomb varieties, we were seated at a sushi train stacked with macaroons, in colours complimenting the Gloss Bomb varieties. It was here I had an opportunity to take a seat, select a shade from the train, and try out the new Heat formula while tucking into a delicious treat. This plumping gloss is not messing about—it volumises lips almost instantly, so apply with caution and avoid locking lips! 
Onto finishing touches, I was just about ready for my close-up. No makeup look is complete however without a little extra shine, and I was after something that was going to light up the room on that drizzly day. Diamond Bomb All-Over Diamond Veil understood the assignment: she sparkled, she reflected and she was FINE, in more ways than one. A little on the cheeks, the bridge of the nose and the cupid's bow, and we were good to go. 
Not that this snatched face was going anywhere, but our last stop in the Fenty x TikTok Warehouse was an opportunity to get hands-on with the Fenty Skincare range. I wasn't prepared to take my makeup off quite yet but was happy to give each product a little dip, squeeze and slather at the basin.
As a final treat, I witnessed a demo of the coveted Cookies N Cream Whipped Clay Mask which has TikTok abuzz at the moment, for good reason. This salicylic acid and charcoal mask cleans deep into the pores, while also transforming upon the skin from a creamy white to dark oreo colour before your eyes. 
Rihanna's line of skincare wonders was unveiled in 2017, and what a way it's come in a short five years. The formulas are quality, the products are innovative and playful, and the textures are a delight for the face and body. Most impressive, however, is the sheer magnitude of the shade range, truly setting the benchmark for an inclusive beauty brand. 
If Fenty beauty hasn't been on your radar before now, then 'Where Have You Been'?
Read More From En Route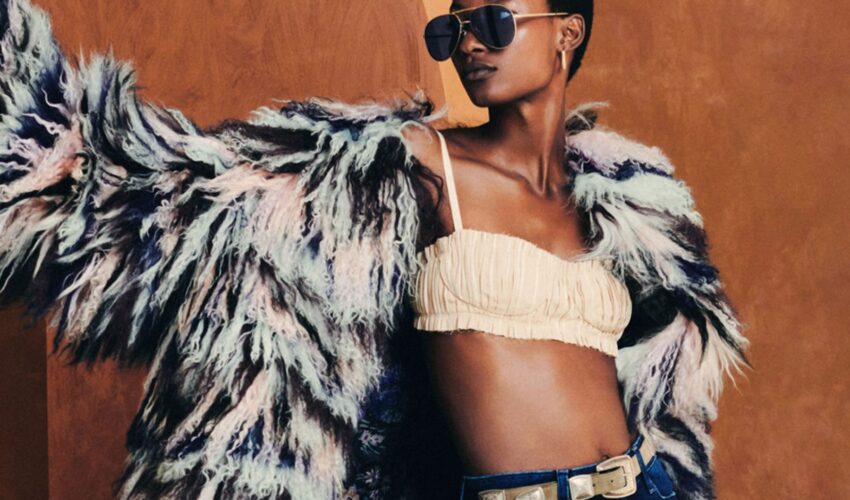 Beauty , Self , Style
06/23
come En-Route with us
Sign-up for our newsletter.
By clicking "submit", you agree to receive emails from En-Route and accept our privacy and cookie policy.