At Home With Rosalie Molloy
An inspiration hoarder, whose home is as perfectly curated as her Instagram feed
10/19
Share this:
Filed under People
Written by Danielle Williams
Rosalie Molloy is a self-proclaimed inspiration hoarder who isn't saving lives and we are #enroute with the sun-loving, queen of beige herself to take a look inside her home and uncover what makes her, her. 
Saying that Rosalie has mastered the art of bringing the online-offline, is an understatement. You'd almost expect her private space to have at least one minor flaw, perhaps like last nights dishes in the sink, an empty coffee cup left on the table even?
Sadly, we're here to break the news that this is not the case and her home is every bit as curated as what it appears to be from her Instagram feed.
As for the rest of us?
We'll continue masking piles of unfolded clothes behind whichever door our guests are least likely to look behind.
Never write-off a product based on how a store has merchandised it. Everything has a dual purpose!
DW -
What do you love the most about where you live?
RM: For me, it's having the flexibility to change anything when I want and how I want.  Tomorrow if I want to paint my wall red, I can. If I feel like bringing in some colour, I can.
My home is the product of the amount of effort and energy I've put into it, that's what I love. 
DW -
What room inside your home is your favourite? 
RM: My dining room.
It gets the most beautiful natural light in the mornings and we've just had these beautiful French Doors installed which cast amazing shadows. I'll just sit there with a coffee and enjoy the light and scroll through Instagram – it's just a beautiful spot to sit.
DW -
Best tip you can give for curating your space?
RM: When you're trying to curate your space you have to stick to something that is uniquely you, you need to have a clear understanding of your inspiration and try to keep that handy.
There can be many facets to your style and you can love different areas, colours and spaces but working on combining that is a really tricky thing.
When you put all your reference images of things you love together, you can look and see how it feels, strip it back or add to it but just understanding where you want to take your space is a huge factor. 
The trick is to know your inspiration and have it handy whenever you feel impulsive. I live by my Pinterest board and saved Instagram photos and let those guide my decisions.
Sometimes there are some really great pink cushions that I want but I realise they won't work. 
DW -
If you could have a chair named after you, what would it be called?
RM: Ohhh, good question. There are two things, so it could go either way.
It could be 'The Rosa' (the nickname I always wanted to have but was never given) or Lé Beige or something to that effect…
DW -
What are three places you default to when looking for new interior pieces?
DW -
If you were a new addition to the crayon box, what colour would you be?
RM: If I was a crayon, I'd like to be yellow. 
It's bright and fun and I feel like your crayon colour should be your personality on the inside. 
DW -
What do you think about when you're alone in your car?
RM: Normally I'm rattling off my to-do list and it's mostly things I have forgotten to do…
If I don't write it down, I don't remember it. 
DW -
What's your favourite 90's jam?
RM: I'm a big RnB fab.
Anything Usher, anything Nelly – I'll take it all. 
DW -
If you could have 1 minute in any store and whatever you put in your trolley, you get to keep. What store would it be?
RM: If it can be an online store, then I'll have to say Net-A-Porter.
I mean who wouldn't?
DW -
What's your best purchase?
RM: It has to be my little puppy. 
DW -
What's your worst purchase?
RM: I bought this rattan lounge for a day bed, which I loved.
But I bought it on an impulse in a really big rush because I'd been searching all the vintage stores for one that I could afford.
So when I bought it I didn't sit on it, I didn't look under it and just scanned over it and as soon as we brought it home the rattan started to pull apart. 
It was really devastating and I was in so much trouble with my partner. 
James Lane
Chalk & Marble Dining Table
1699.00
Tom Ford
Hardcover Coffee Table Book
$122.75
Marquis By Waterford
Glass Decanter
$199.00
Temple and Webster
Glass Console Table
$399.00
Sunday Lane
Libra Woman Print
$39.00
Raawii
Small Ceramic Vase
$65.00
Read More From En Route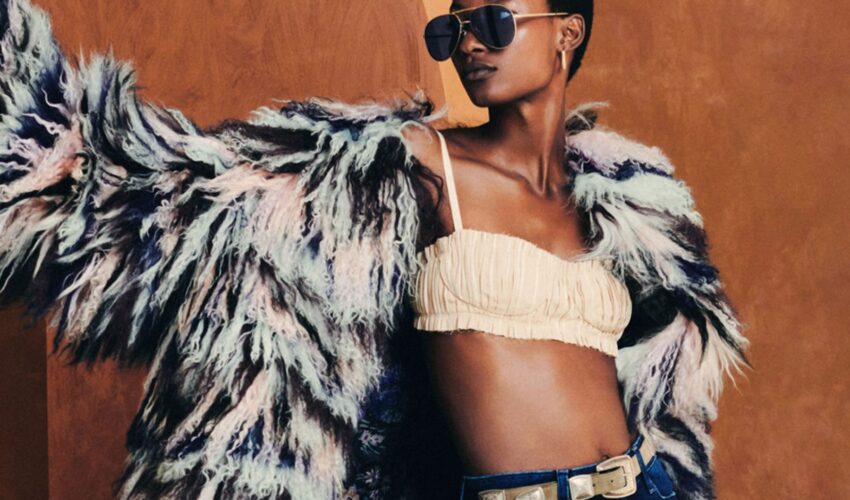 Beauty , Self , Style
06/23
come En-Route with us
Sign-up for our newsletter.
By clicking "submit", you agree to receive emails from En-Route and accept our privacy and cookie policy.