Culture
Transport Yourself Straight To Portugal With This Cookbook
A cookbook that takes you on a journey
04/22
Share this:
Filed under Culture
Written by Jo Hombsch
When Leandro Carreira was first approached to write 'Portugal: The Cookbook', he politely declined. He knew that documenting and shining a light on the national cuisine was an honour but also a mammoth task. Thankfully he was given a chance to reconsider and then jumped on the once-in-a-lifetime opportunity. 
Whilst undertaking the project to write the cookbook, which now holds the "Largest collection of traditional Portuguese recipes translated into English" within its covers, Carreira fell back in love with his Portuguese identity. For two and a half years, the Portuguese born, now London based chef researched, visited local villages and read through an enormous number of scribbled notes from family and friends to slowly piece together the national cuisine. It's the sort of cookbook that takes you on a journey, with Carreira hoping that "The recipes will transport you straight from your kitchen to a region of the country."
As I flicked through the book late one afternoon, Carreira took me back to a time when I was in Portugal some three years ago. As I delved deep into iPhone land, I found old photos of hunting down the best Pastéis de Nata (custard tarts) in town. Then to an alleyway in Lisbon, at the sort of bar you'd question if it wasn't a recommendation, sitting back with a glass of local natural wine and canned tinned sardines. For most, these treats first come to mind when thinking of Portugal and its food. However, the country is known for so much more.
Carreira hopes the book "Will offer an insight into the breadth and richness of the national cuisine," as he introduces readers to the country's vibrant and globally-influenced dishes. Along with Pastéis de Nata and canned sardines, "There's one dish that every single Portuguese person has eaten at least once in their life and is a perennial favourite: Bacalhau à Brás (Salt Cod with Eggs, Onions and Potatoes)." A dish dating back to the 18th century that is "A magical combination of shreds of salted cod, caramelised onions and crisp potatoes, finished with creamy egg".
It is my hope that the recipes will transport you straight from your own kitchen to a region of the country
SALT COD WITH EGGS, ONIONS AND POTATOES

Bacalhau à Brás
Preparation time: 30 minutes, plus 24 hours soaking
Cooking time: 35 minutes
Serves: 4–6
Ingredients
400 g salt cod loins
600g  large waxy potatoes, peeled
80 ml (1⁄3 cup) extra virgin olive oil
2 white onions, peeled, halved and cut into half-moons
1 fresh bay leaf
2 garlic cloves, peeled, germ removed and thinly sliced
1 litre (4¼ cups) sunflower oil, for frying
10 g (¼ cup) flat-leaf parsley, leaves picked
4 eggs
20 g (1/8 cup) pitted black olives, roughly chopped
Fine table salt and freshly ground black pepper
Extra virgin olive oil, to garnish
Green salad, to serve
Method
Rinse the cod in cold running water, then put it into a large bowl of cold water, cover with food wrap and leave to stand in the fridge for 1 day.
Keep changing the water every few hours and keep checking the salt level depending on your taste. The cod should not lose its saltiness completely.
When ready to cook, cut the potatoes with the julienne blade on a mandolin. Alternatively, using a sharp knife, slice the potato into very thin matchsticks. Rinse the potato matchsticks under cold running water to remove the starch, pat dry with paper towels and set aside.
Remove the cod from the water and pat dry with paper towels. Remove any bones, then shred.
Heat the olive oil in a large frying pan or skillet over a low heat, add the onions and cook gently, stirring occasionally, for 10–12 minutes, or until golden. Add the bay leaf and garlic and cook for a further 5 minutes. Add the cod and cook gently for 5–6 minutes so it absorbs the flavours.
Remove the pan from the heat and set aside. Line a baking sheet with paper towels. Heat enough sunflower oil for deep-frying in a large, deep saucepan or fryer over a high heat until it reaches 180°C/350°F on a thermometer.
Working in batches, carefully lower the potato matchsticks into the hot oil and deep-fry for 2–3 minutes, or until golden. Remove with a slotted spoon and leave to drain on the lined baking sheet. Season with salt.
Put the parsley leaves into a pile and thinly slice them, then set aside in a bowl.
Put the eggs into another small bowl and whisk lightly with a fork.
Put the cod back over a low heat and warm through for 1–2 minutes. Remove from the heat and add the beaten eggs and parsley at the same time. Mix together until everything is combined. Put it back over the heat for 1 minute to lightly cook the eggs, but not too much as you don't want scrambled eggs, then pour the mixture into a serving bowl and sprinkle with the olives.
Add a dash of extra virgin olive oil and serve immediately with the potato matchsticks and a green salad.
Read More From En Route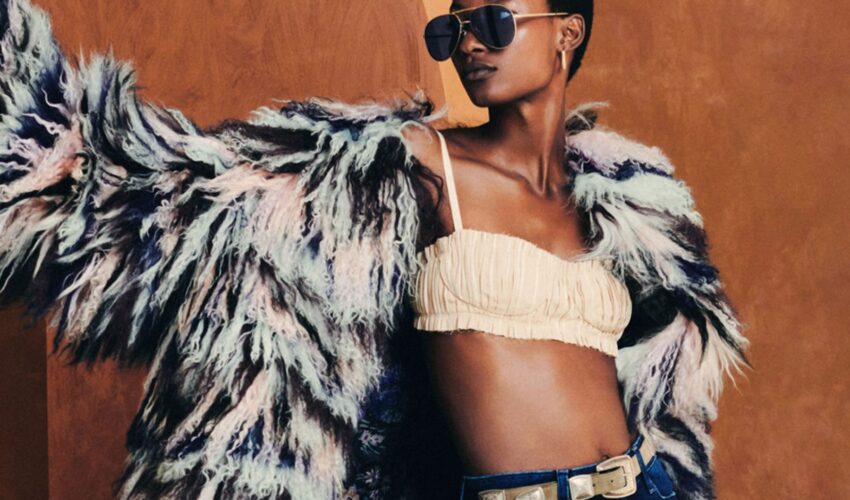 Beauty , Self , Style
06/23
come En-Route with us
Sign-up for our newsletter.
By clicking "submit", you agree to receive emails from En-Route and accept our privacy and cookie policy.